Welcome to this insightful interview with Fredrik Akermark, the owner of Von Arx, a renowned manufacturer of high-quality machines. Today, we have the privilege to sit down with Fredrik and discuss the intriguing drive behind the development of their innovative line of Dust Extractors. Following the acquisition of Von Arx in 2019, Fredrik and his team noticed a growing demand from their customers for a dependable, user-friendly, and top-notch Dust Extractor, which could seamlessly complement their Scarifiers and Shavers. Join us as Fredrik sheds light on the thought process, key features, and unique advantages that set Von Arx Dust Extractors apart, making them a trusted choice for contractors in the industry.
Hello, Fredrik, what was the drive behind developing a line of Dust Extractors?
Quickly after acquisition of VonArx in 2019 we learned that our customers wanted to have a reliable, simple, and high-quality Dust Extractor with our Scarifiers and Shavers. And they wanted to buy them from the same manufacturer as a package.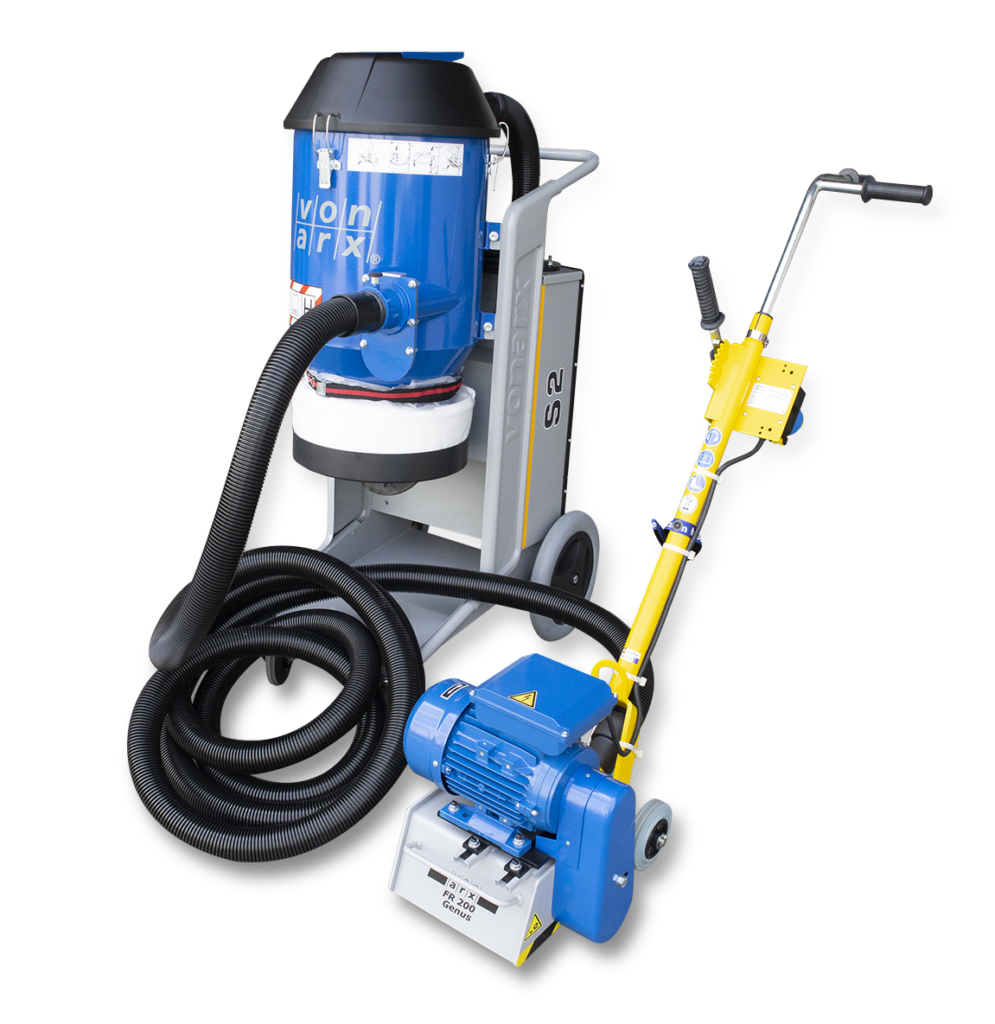 As a professional manufacturer of machines that creates dust it was an obvious decision to develop a solution for our customers to collect that dust best possible way.
Is there a Dust Extractor for each Von Arx machine?
Yes, we have 5 sizes/models of Dust Extractors sized after each Von Arx Scarifier and/or Shaver.
Describe your Dust Extractors?
We know that contractors are looking for high quality and simple machines and that's what we have made. Strong, high quality, durable but simple Dust Extractors.
We developed the Extractor line with Scarification, Shaving and grinding in mind. For Scarifiers you need high water lift (PSI) since the debris is more like gravel and heavy to lift from the floor. And pre filters with large surface, high air flow (CFM) for Shavers and grinders that produces large amount of finer dust particles.
We have found that many vacuum manufacturers put all focus on the use of the vacuum, which is not wrong. But they seem to have forgotten the importance of solutions for when the vacuum is not in use, such as loading, transport, service, and repairs. That's where equipment is most vulnerable.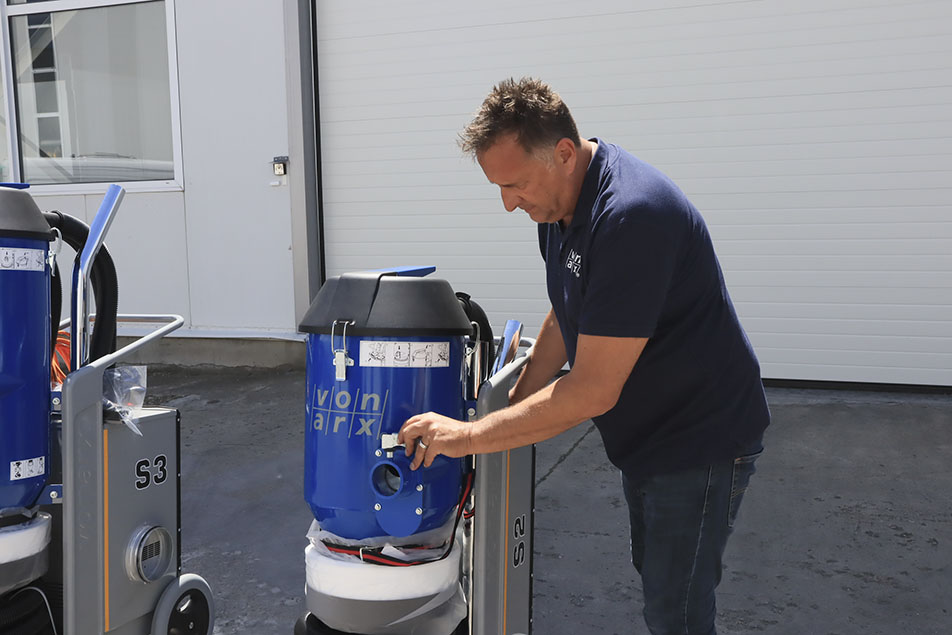 How have you tested the Extractors?
We have been having them in-field for over a year and been running them connected to Grinders, Saws, Scarifiers and Shavers. Many times, we have connected them to oversized machines to really push them. All with amazing results!
What key features did Von Arx prioritize when designing the Dust Extractor line?
Von Arx prioritized several key features when designing the Dust Extractor line. They focused on creating strong and durable machines that are also simple to operate. The Dust Extractors were specifically developed with Scarification, Shaving, and grinding in mind. Different models were designed to address specific needs, such as high water lift (PSI) for effective removal of heavy debris from the floor in the case of Scarifiers, and pre-filters with large surface areas and high air flow (CFM) for efficient collection of finer dust particles generated by Shavers and grinders.
How does Von Arx ensure the quality and durability of its Dust Extractors?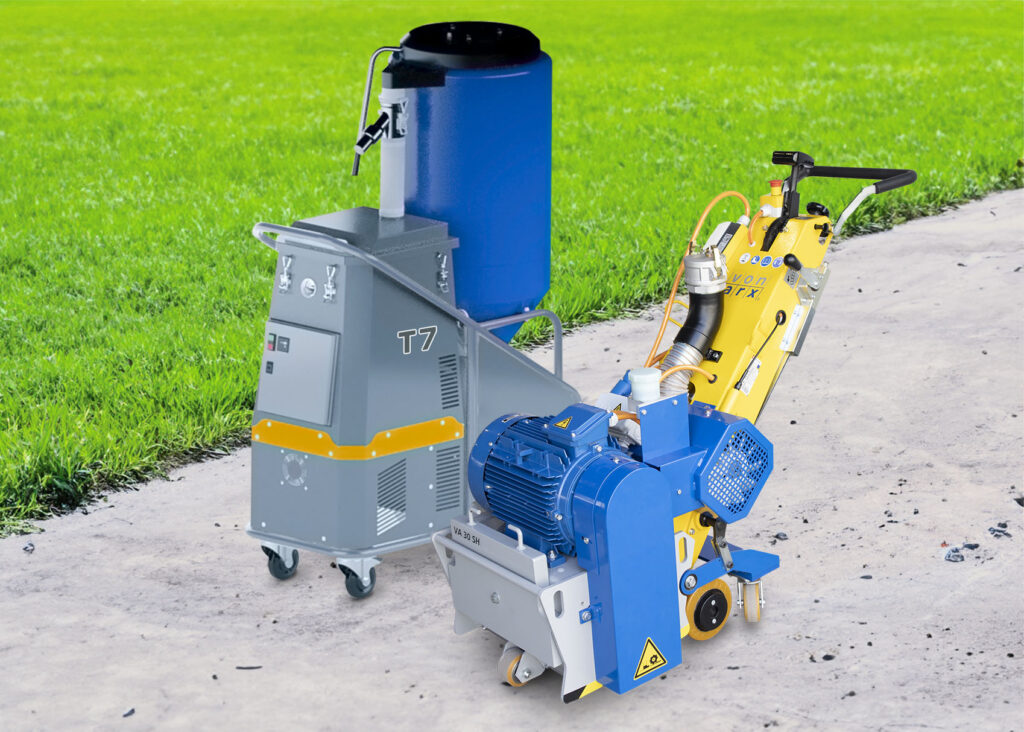 Von Arx places a strong emphasis on quality and durability in the construction of its Dust Extractors. All models are equipped with high-quality 2-stage motors that provide excellent air flow and PSI. The Extractors feature an efficient semi-automatic filter cleaning system and utilize a dust-free Longopac collection system. They are also designed with robust chassis to withstand rough handling and come with strong, large wheels and casters for enhanced maneuverability. VonArx's commitment to quality ensures that their Dust Extractors can withstand the demands of professional use.
What makes Von Arx Dust Extractors a trusted choice for contractors?
Contractors can trust VonArx Dust Extractors for several reasons. Firstly, Von Arx is a reputable brand known for producing high-quality products with operator safety as a top priority. Secondly, the Dust Extractors are designed to deliver exceptional performance, with powerful motors and effective dust collection capabilities. Additionally, Von Arx offers competitive pricing, making their Dust Extractors an attractive choice for contractors seeking reliable and affordable equipment.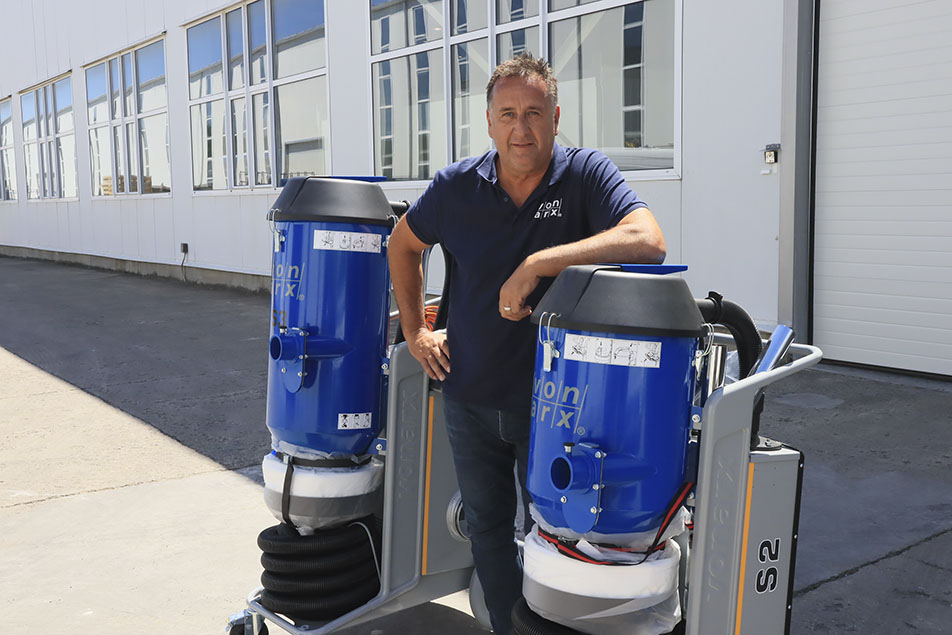 Has Von Arx conducted any independent testing or received feedback from customers regarding the Dust Extractors?
Yes, Von Arx has conducted independent testing and gathered feedback from customers regarding the performance of their Dust Extractors. The machines have been extensively tested in real-world conditions, connected to various equipment such as Grinders, Saws, Scarifiers, and Shavers. The positive results and feedback received validate the effectiveness and reliability of the Dust Extractors in capturing dust and debris efficiently.
Thank you, Fredrik! In conclusion, this interview has shed light on the motivation behind the development of Von Arx's Dust Extractor line. The company's commitment to meeting customer demands for reliable and high-quality equipment has resulted in Dust Extractors that seamlessly complement their Scarifiers and Shavers. The emphasis on durability, simplicity, and operator safety has led to machines that deliver exceptional performance and efficiency. We sincerely thank Fredrik Akermark for sharing his valuable insights, and we commend Von Arx for their dedication to meeting the needs of contractors in the industry.
---
If you need more detailed information about our dust extractors,
please go to our